by Darryl Tinnerstet
This is one of those stories that you hear and say "yeah, right." But it's true, and I have the photos to prove it. From 1986 through 2004, I operated Specialty Automotive in Olympia, Washington, selling DeLorean auto parts, while also working full-time as an engineer. I drove to 48 states buying up dealer parts inventories, and used ads in Hemmings Motor News to retail those parts, soon building up a small but thriving sideline enterprise with customers worldwide. I also bought a number of wrecked DeLoreans, many through HMN ads, and built up a nice supply of used parts, too.
In 1994, I was talking on the phone to a DeLorean parts customer in Switzerland who had owned several DeLoreans there. He asked for my help in finding him a brand new DeLorean car in the US. Even though they would have been 12-14 years old by then, it was not totally unreasonable to find a "new" one, since some had undoubtedly been purchased and put into storage. I just chuckled and said, "Sure, I'll try, but don't expect one any time soon." When I got off the phone, I picked up my latest copy of Hemmings and turned to the "D" section. Several low-mileage DeLoreans were listed, but one 1981 model in particular caught my eye for two reasons: It was in Oregon, which meant it was within driving distance of my home in Washington; and the ad said the car had only 81 miles on it. I figured they might have confused the mileage with the year, but it was worth a phone call to find out.


I called the owner and verified that it did indeed have only 81 miles despite being 13 years old, and that it was located in a small town on the southern part of the Oregon coast. Deciding this was too intriguing to pass up, I took a day off from work and asked my elderly mother if she wanted to go for a long ride. We drove about 200 miles south down I-5, and then cut over to the coast. After many long hours in the car, we got to the owner's 200-acre ranch, home to ostriches, emus, buffalo, yaks and as we were to see, one DeLorean. The elderly gentleman, a retired auto dealer, proudly showed us around the farm and pointed out all of his animals. He then invited us into the house, where his gracious wife provided snacks. When I asked about the car, he explained how he had bought it new in Reno and had it shipped to storage when they lived in California. When they moved to this ranch, he and his wife had a nice seven-bedroom house, but there was no garage. The car sat in a carport for a short time, but he was concerned about having it outside. I asked where it was now. "In the bedroom," he said, just off the living room where we were sitting.
"One day when Mama was in town, me and the hired man took a chainsaw to the back wall of one of those unused bedrooms," he explained. With carpeting, wallpaper, makeshift ramps and plywood doors still in place, there it was. The fit was so tight that from the inside door of the bedroom you could only get to one side of the car, having to either crawl through the car or open the outside "doors" to reach the driver's side.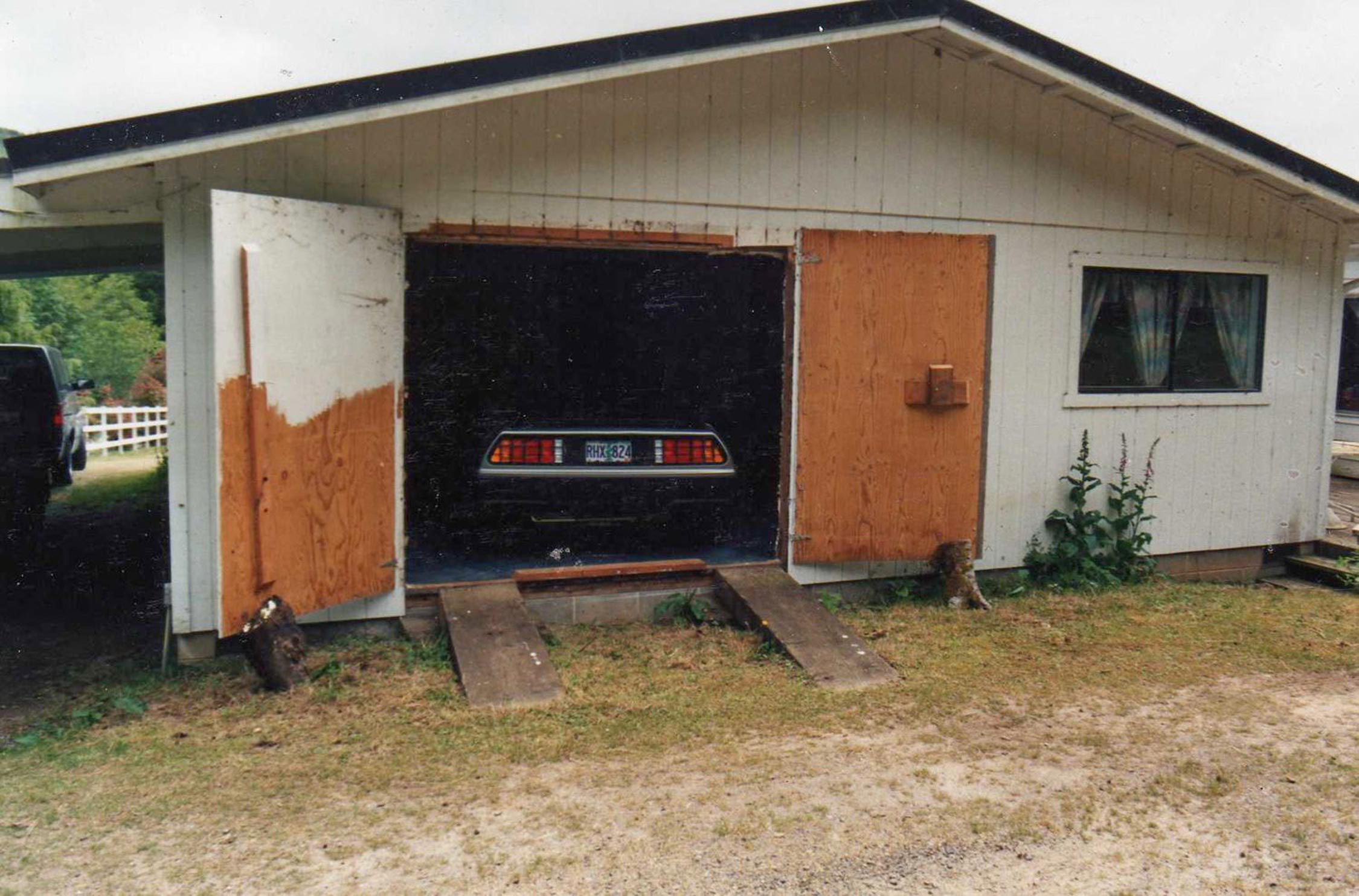 I was concerned about the mechanical condition of a car stored for 14 years, but he stated that once a month, he opened the plywood doors and started the car, and every six months he siphoned the fuel out and replaced it. We fired it up, and it idled down perfectly. The car, a five-speed with gray interior, looked and smelled new. The engine and underneath of the car were spotless. The heat shields by the muffler and catalytic converter were not even discolored, and the muffler itself barely showed signs of having been used. In a word, it was perfect.
He went on to tell me that he had bought it as an investment, but that now his health was failing. In fact, he would soon be selling everything he owned. We had a long and very nice visit, but had to head for home, going the slow route up Highway 101 along the coast. Now I was faced with a dilemma: I had promised my customer in Europe that I would try to find him a new car, and would probably not have located this one had it not been for that request. On the other hand, I would likely never again find a collector car as pristine as this one at such a fair price. When we got home, I called Switzerland and described the car, and told him to let me know very soon if he wanted it. Of course he did, so we proceeded to complete the sale. I could have just bought it for myself and he would have never known, but I had given my word, so that was not an option. Plus, I was not really in a position to keep it as a non-driven show car, since I already had three DeLoreans – my daily driver, my supercharged Chevy-powered DeLorean, and a turbocharged project, plus several other vehicles.
In the next week, there were frantic calls to Oregon and to Switzerland as we tied up the deal and awaited the transfer of funds. But the process was taking too long, and the seller was getting nervous as other prospective buyers were telling him he had sold it too cheap. Finally I called my mother and said, "Ready for another long ride?" We hitched up my car trailer, hit the bank for a quick loan (thanks to my open-ended home equity account), and headed south. We had another nice visit before I bought the car, drove it out of the bedroom onto my trailer, and headed for I-5. After driving several miles, we found the route inland closed, so we backtracked to Highway 101 and up the coast we headed again, this time with a precious cargo. For one week, I actually owned four DeLoreans, including possibly the best, lowest-mileage one remaining. Then the buyer's funds arrived, and I made arrangements to have the car shipped overseas. At his request, my final act was to soak the entire exterior with four cans of WD-40 to lessen the possibility of salt-air damage.
It was sad to see it leave, as I will probably never have an opportunity to own another one as nice. It took 30 days for the car to get to Europe, and it arrived with no problems. The new owner said he intended to drive it – while not what I would have done, it is, after all, what they were made for. A couple of years later, I had the opportunity to go out to the seller's farm again, but this time found it overgrown and abandoned. And the last I heard of the car, it was for sale in Europe for over twice what the buyer had paid.