It was on sheer sentiment that David searched the internet this past winter for information on his father's gold DeLorean. The last the family knew, it had been given to the William F. Harrah Automobile Foundation. The owner, Sherwood Marshall, had not seen his DeLorean since 1983 when his wife, Maureen, drove it to the back of a transport, prepping it for its journey to Harrah's Automobile Museum, where it remained on loan until 1986. At the time, the couple lived in San Francisco. Marshall was involved in building, starting up and then selling convalescent hospitals and retirement centers.
Maureen had first seen DeLoreans advertised in Harper's Bizarre. She showed her husband.
"He wanted a car just to go down to the office which was about six minutes away," Maureen says, "and he thought the DeLorean would be great. It didn't have to be painted. It got good mileage, and he wanted a sports car."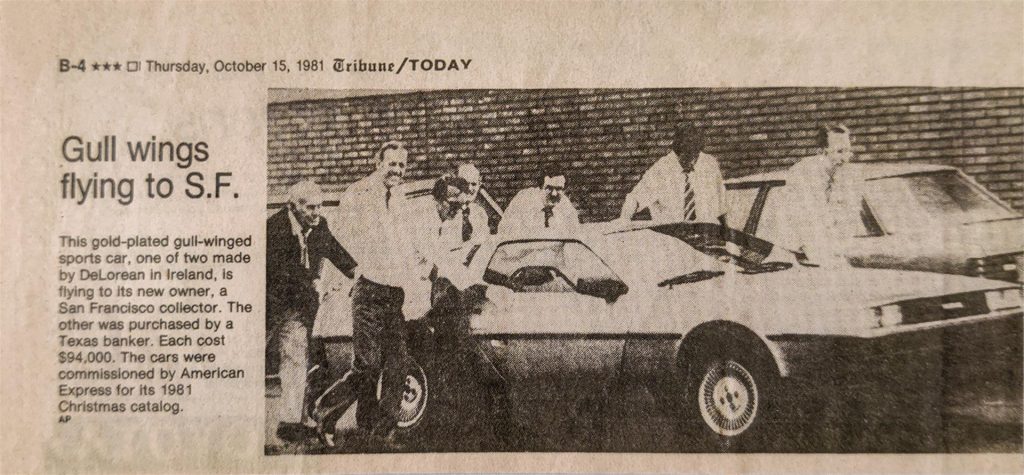 But Marshall had seen some advertisements of his own, particularly one in the 1980 American Express Christmas catalog. Sure it was pricier; but it was prettier. After all, why go steel when you can go gold? Without his wife's knowledge, he put one gold DeLorean on his American Express card. Little did he know that he would receive the very first of the proposed 100 limited-edition, gold DeLoreans.
At the factory in Ireland, orders were taken for only two gold cars. The second was purchased by Roger Mize, a banker in Texas. His secretary, Kate Owens, thought it would be oh-so-funny if her boss bought the car, and she teased him to get one. Mize considered the matter for a time and finally decided that gold was a good investment. In 1980 dollars, one gold DeLorean cost $85,000 – mere peanuts, equivalent to $215,871 in 2005. The flamboyant C.R. Brown, vice-president of marketing, lavished the cars as a bargain, saying that each represented a loss to DeLorean Motor Company in the tens of thousands of dollars. While the idea was tantalizing, the hype couldn't match the company's ambitious projections.
With 100 gold cars a pipe dream, the factory assembled the dynamic golden duo, under guard and purchased one spare set of electroplated, 24 karat gold panels. These were a precaution, in case a reckless, speeding new owner put a teeny, tiny ding into the body. Of course, everything can be fixed, as Sherwood Marshall was told on the phone. Replacement front wheels cost only $318, rear wheels $364, fascias a petty $778, and the quarter panels a simple $4,705. To replace the T- panel cost $5,984, fenders cost a smidgen $5,990, and the door panel cost a pittance really – a bargain at $24,286. In 2005 money the equivalent rates are $807, $924, $1,975, $11,949, $15,197, $15,212, and $61,678 respectively. Had a clever thief left nothing but a shell of the DeLorean, total gold replacement would have cost $78,866 – or over $200,000 today.
By 1981, Marshall had more or less forgotten about it until he received a call from New York.
A man cheerfully asked him where he would like his gold DeLorean.
"I asked when the car would be delivered," Marshall says, "and he said it would take three days."
When Marshall realized the car was in Ireland, he asked how that was possible. The man told him they would fly the gold DeLorean right to him. All he needed was the name of a dealership that could take delivery.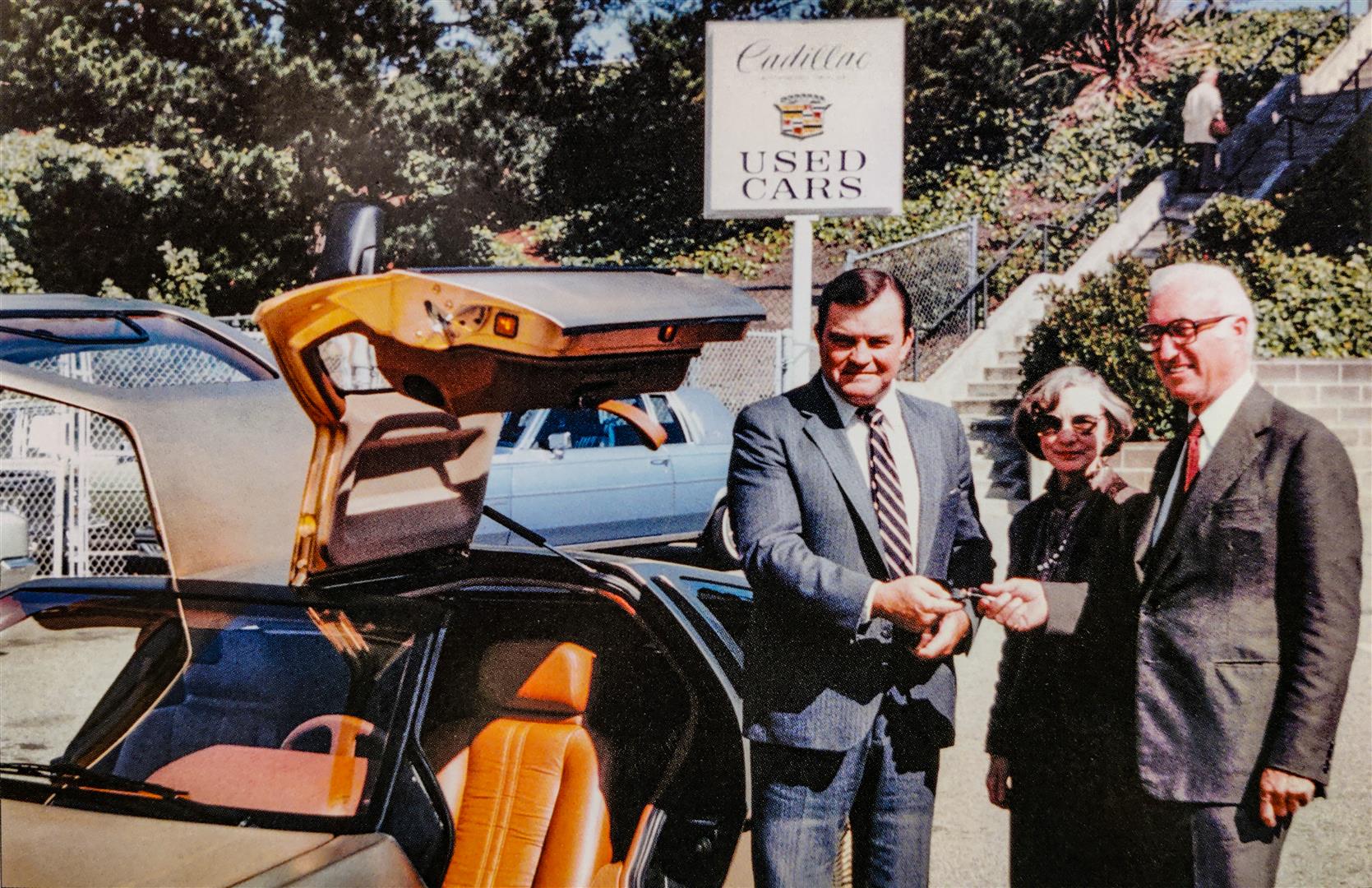 A Cadillac dealer near San Francisco International Airport said they'd be happy to receive it. On October 12, 1981, the Marshalls were presented with the keys to gold DeLorean SCEDT26T0BDD04300 and drove it off the lot. The idea of storing the car as a collectible didn't occur to them. It was meant to be driven.
"It really was a great car to drive," Marshall remembers. "It was low to the ground and had lots of zip. It ran beautifully."
"We drove it in San Francisco," Maureen says.
"We drove it to Monterey and to Sonoma where some friends of ours had a winery."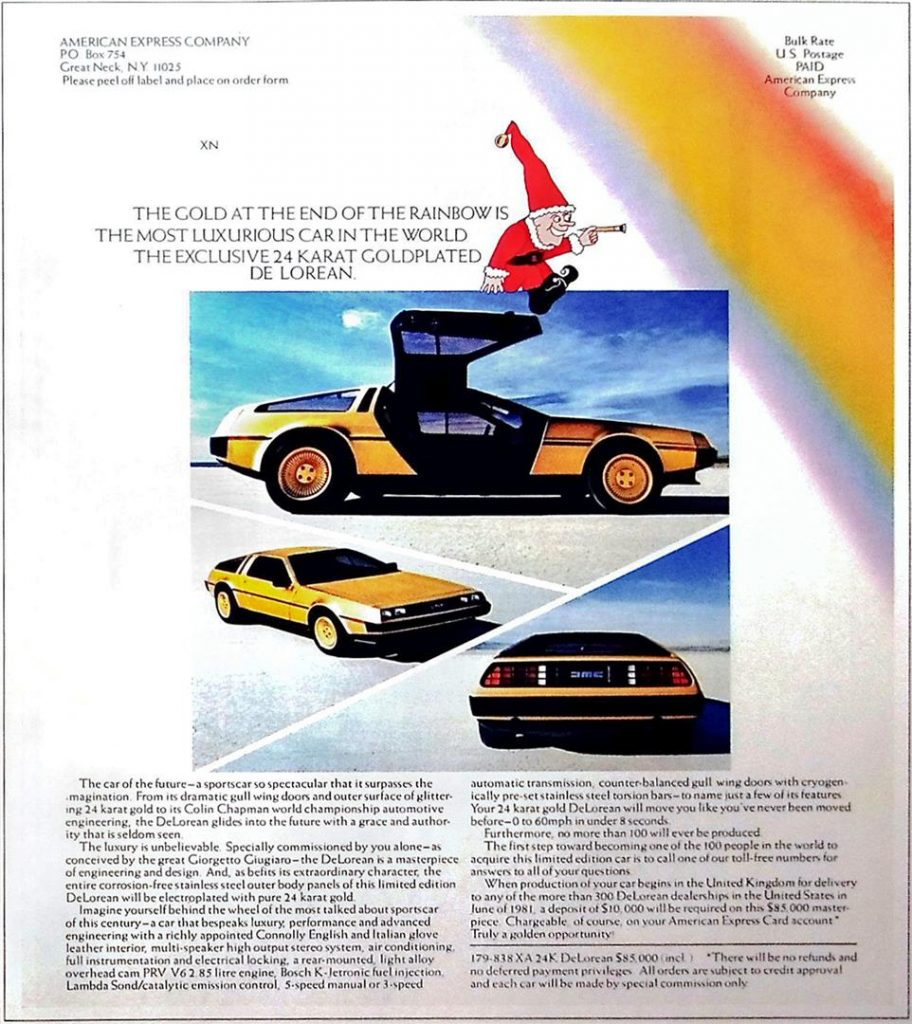 For five months they drove gold in California. Everywhere they stopped – at traffic lights, park­ing lots and along streets, crowds would form.
"That was the problem," Maureen says.
Privacy is a luxury more-afforded to those that don't own DeLoreans, and gold made it worse. Still, the Marshalls zipped along the roads for five, happy months, despite their growing worries that vandals might try to scratch the metal.
Gold DeLorean VIN 04301 enjoyed a less active legacy. Upon receiving it that same October, Mize promptly directed the removal of the front doors of Snyder National Bank in Snyder, Texas and had the car rolled into a glass vault. The DeLorean promptly took a nap for 24 years, snoring silently to the delight of thousands of awed onlookers who came from all over the world. In 2004, Mize's daugh­ters donated the car to the Petersen Automotive Museum in Los Angeles where it currently sleeps with only seven registered miles.
A third, infamous gold DeLorean, VIN 20105, with its off-tinted, passenger­side door panel, found its way into the possession of Carl Winters, who still owns it today. Disputed by some, the car has the reputation as being the last DeLorean ever produced'. Purists claim it's not one of the factory-built gold cars intended for the American Express promotion. But some argue that three sets of gold panels were made and three gold cars were built. Consolidated International raffled the car off on December 16, 1985 and reported four million entries. A draftsman named Charley Greene won and quickly sold the DeLorean to Harry Kaufman Motorcars in Milwaukee, Wisconsin. A representative was sent to Columbus to drive the DeLorean back personally. Through a snowy blizzard, the car covered almost 450 miles that day. By the time ownership passed to Winters, the DeLorean had 605 miles and was never officially registered.
Today, the Marshall DeLorean resides in the National Automobile Museum in Reno, Nevada with 1,441 miles. Most were driven by Sherwood Marshall. The museum proudly displays the car as one of its feature exhibits.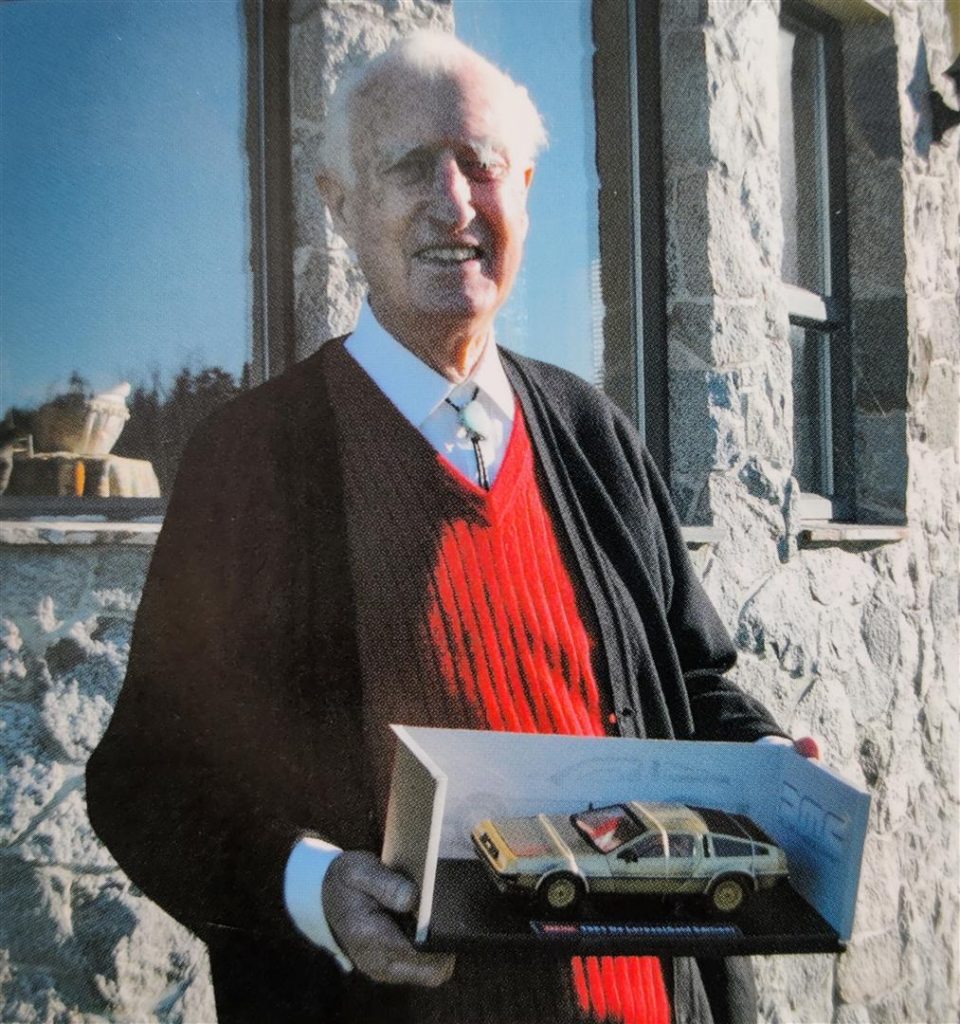 Back in April of 1982, State Farm Insurance informed Marshall that they could not be responsible to a hunk of mobile gold. Another carrier said they'd insure it if the Marshalls didn't drive it. With dwindling options, a nephew who worked for the Harrah Collection said the museum would love to borrow it for display. After the appraisal reached $175,000, Marshall donated the car to the William F. Harrah Automobile Foundation in 1986 and took a tax credit.
Almost 20 years later, his son David came upon the the miniature Sunstar model while searching the internet. He spoke to his father, now 88 and jokingly suggested the model as a Christmas present. Marshall pulled out his American Express card, the same one he'd used in 1980, and offered to buy it. But David bought the model for his father. He and Maureen shared their fond memories of the gold DeLorean with the family. Their smiles reflected back to the first day they saw VIN 04300 at the San Francisco Cadillac dealer, where they unknowingly became part of the DeLorean legacy.
Story: John Walk – Photos: Courtesy of David Marshall and DeLorean One, Chatsworth, CA