by Chris Miles
If you've ever had to replace the alternator / water pump belt (or just adjust it,) you know what a pain it is – especially if you're broken down on the side of the road! So, to make it easier, I have been using a turnbuckle style alternator tensioner. It's made from parts sourced from McMaster Carr. You don't need to install this now, but it's a good idea to have it in your car, so that you can install it the next time you replace the belt. (You SHOULD have a spare belt in the car too – Gates #7495 – www.rockauto.com/en/moreinfo.php?pk=3913&jsn=10393)
You'll be replacing the existing alternator tensioner bracket (DMCT Part#: 110102) with this new tensioner. Here are the parts you'll need to build this replacement bracket:
Stainless Ball Joint Rod Ends – You'll need to order a RIGHT hand *AND* a LEFT hand threaded one.

Stainless Steel: ~$14@ – McMaster-Carr #59915K23 (www.mcmaster.com/#59915K23)
Zinc-Plated Carbon Steel: ~$6@ – McMaster-Carr #2458k13 (www.mcmaster.com/#2458k13)

Coupler Rod – ~$18@ – McMaster-Carr #8419K12 (www.mcmaster.com/#8419K12)
Jam Nuts – McMaster-Carr doesn't sell nuts individually, so you may be better off sourcing them locally. OR, if you really want a big bag, here are the part numbers:

Medium-Strength Steel Thin Hex Nut (Right-hand thread): ~$5.50 – www.mcmaster.com/#94846a510
Left-Hand Threaded Grade 5 Steel Thin Hex Nut (Left-hand thread): ~$8 – www.mcmaster.com/#99612a112

Longer bolts – The stock bolt (Metric 8) that is attached to the engine block is 2″ long. You'll need a bolt about 2 1/2″ long (Metric 8) to accommodate the thickness of the rod ends (which are 1/2″ thick). (Again, if you want a big bag of bolts, here's the McMaster-Carr part: ~$9.50 – www.mcmaster.com/#91280a551)
Remember, you'll also need a long enough bolt to go through the rod end into the alternator itself. Check your YOUR alternator bolt size, and get one about 1/2″ longer than the current size.
The coupler accepts a ½ inch open-end wrench. Simply rotate the coupler to extend the tensioner, which pushes the alternator away from the water pump pulley, thus tightening the belt.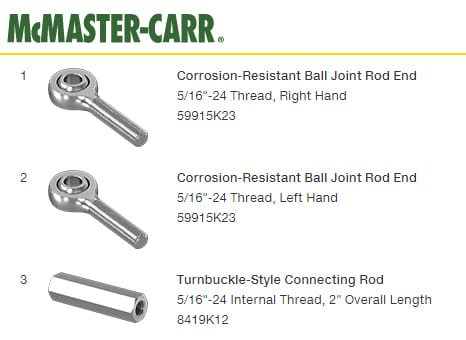 I've been using these on both of my DeLoreans for years, and have never had an adjustment problem.
At the time of this writing, the rod ends were about $14 each, and the coupler nut was $18. The jam nuts are probably less than $1 each. For about $50, you can have piece of mind that you can replace your broken or damaged alternator belt on the side of the road quickly and easily.