We recently saw Joffrey Dragotta's posts in the DeLorean Fanatics Facebook group, where Joffrey and his friends took their DeLoreans CAMPING! Who would have thought you could fit enough supplies into a standard DeLorean (not towing a trailer), and travel part of the world while sleeping in tents?!
Well, Joffrey and his friends did it – twice!
He called his most recent trip "Eurofest Trip 2016", driving the DeLorean over 3,500 km (over 2,100 miles) in 10 days, visiting Paris, Calais, Cambridge, Edimbourg, Inverness, Fort William, Glasgow, Cairnryan, Belfast, Dublin, Holyhead, Bristol, Stonehenge, Southampton, Brighton, Folkstone, and Paris.
We sent some questions to him, and got his response in French, so here are both the English and French versions. Enjoy!
---
English
Q: What made you decide to take a DeLorean camping, and how long was it?
In December 2014 I proposed to the French DeLorean club "Stainless Wings" (I'm currently the Vice President) that we do a tour of Italy in August 2015. I posted a message in our online comments, and I talked to my friends who are around Paris. Two of them had the courage to be part of the adventure: Cedric and his brother in a DeLorean, Cyril with his DeLorean, and me with my girlfriend.
I then thought about the road trip, established a route with itineraries, the number of daily kilometers, the camping (I selected 3 or 4 cities), and calculated the total budget (food, camping, petrol, tolls), favoring roads without tolls.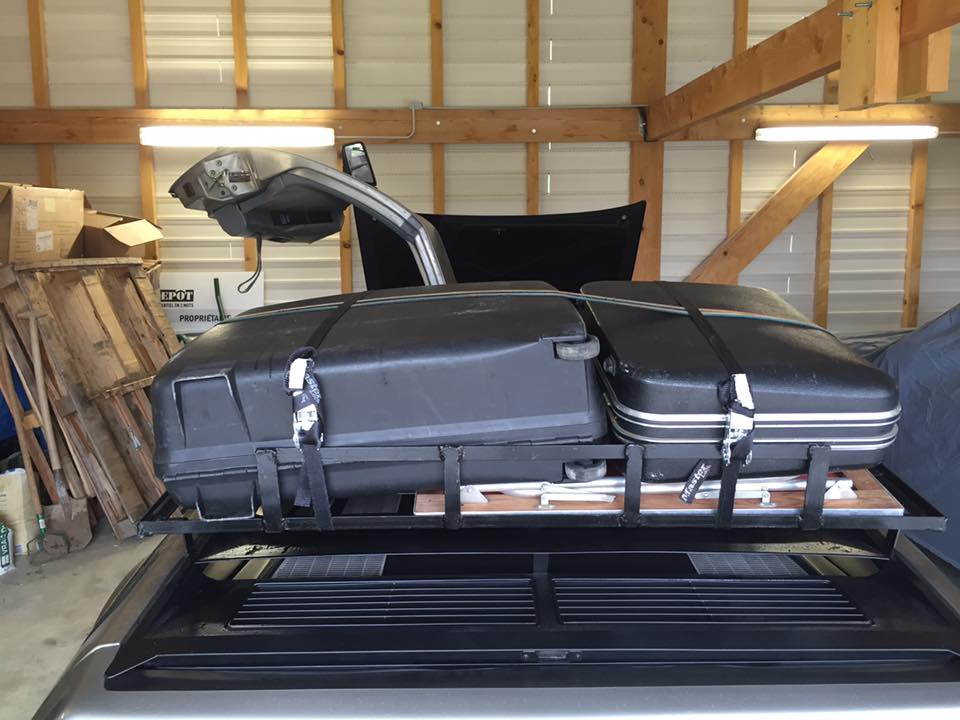 Once the budget and itinerary were figured out, we thought about the material organization (automotive parts, mechanical tools to take, camping equipment etc.) We decide to make custom luggage doors because the original ones are too small and not strong. We wanted to make them stainless steel, but didn't get them done in time, so one afternoon a month before leaving, I talked to the father of my friend Cedric. I showed him some pictures of the original idea, explaining that we did not need an attachment system with removable hinges, just a fixed system, that would allow us to detach the baggage rack during travel in order check water and oil levels, but still be able to remove them quickly if there was ever a problem. I explained that the original luggage rack was too small and need one that was bigger. He had to be careful not to reduce the visibility from inside the car, and that the radio antenna could still extend. Oh, and it was also necessary that the engine got airflow for cooling.
We started work on the car the same day, and just two days later, two racks were done (the third car was already equipped with an original luggage rack).
15 days later, two luggage racks were made and a week before leaving, they were installed on the two cars. The cars were ready, and we did not modify the cars as our German friends did.
We changed the old shock absorbers, and front and rear suspension on Cedric DeLorean on August 4.  On August 8th we changed the oil, coolant and brakes, and we left on August 10th.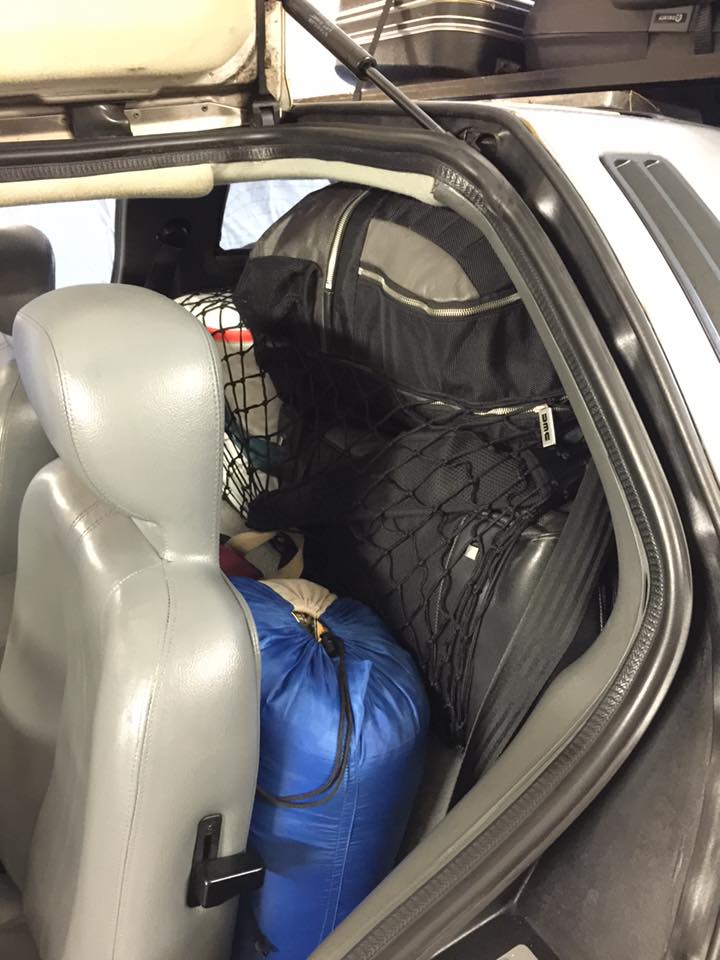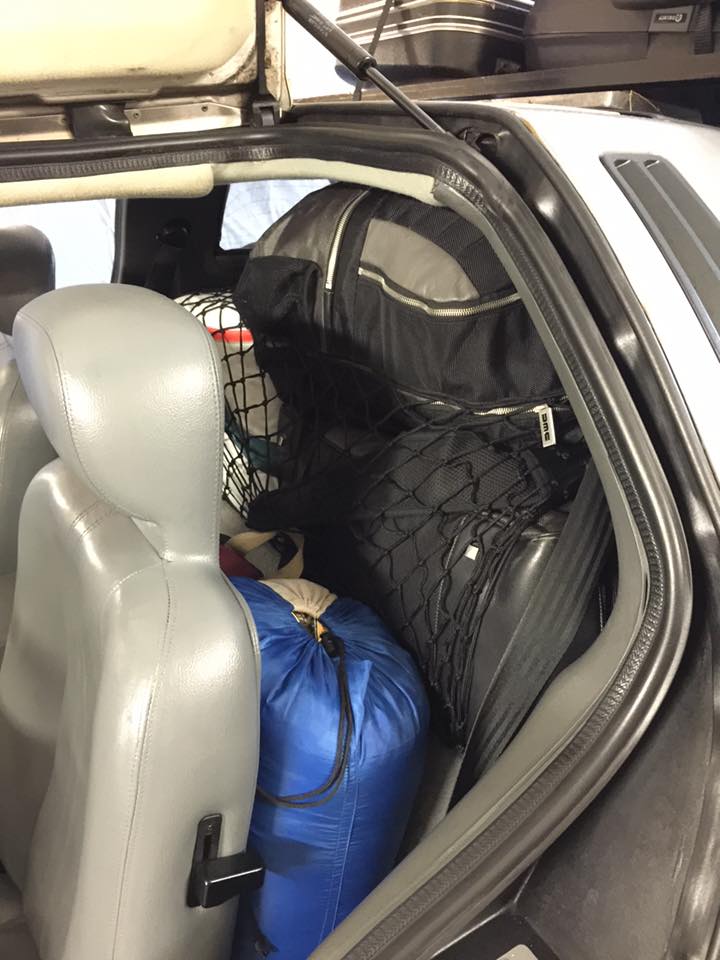 Q: How long have you owned a DeLorean?
I bought my car in August 2013 from California. from the original owner, who had it for 32 years, and he drove it often, while maintaining it. The car was in great condition when I bought it, but after all those years it made sense to upgrade and fix things that were old. So during the past two years I've made my car more reliable by changing the fuel system (pump, filter and Avia hoses), the entire cooling system (radiator, etc.) I also rebuilt the entire brake system, and updated the electrical system (alternator, LED bulbs everywhere, red optima battery, etc.).
Q: Have you ever been camping with the DeLorean before?
For the Italian trip, in August 2015 we traveled 5000 km (over 3,100 miles) in 14 days and visited Annecy, Pisa, Florence,  Siena, Pienza, Lake Bolsena, Montepulciano, Cassino, Rome, Naples, Pompeii, Metaponto, Matera, Rocca Priora, San Marino, Sant'Agata Bolognese (Lamborghini museum), Venice, Lake of Gardia, Lake Como, Switzerland, and Paris. Camping for 13 nights. There was just one night we did not find place, and we slept in the car at the track "Enzo and Dino Ferrari" as you can see in the photos.
Q: What was the hardest thing to pack, and how many times did you practice loading the cars?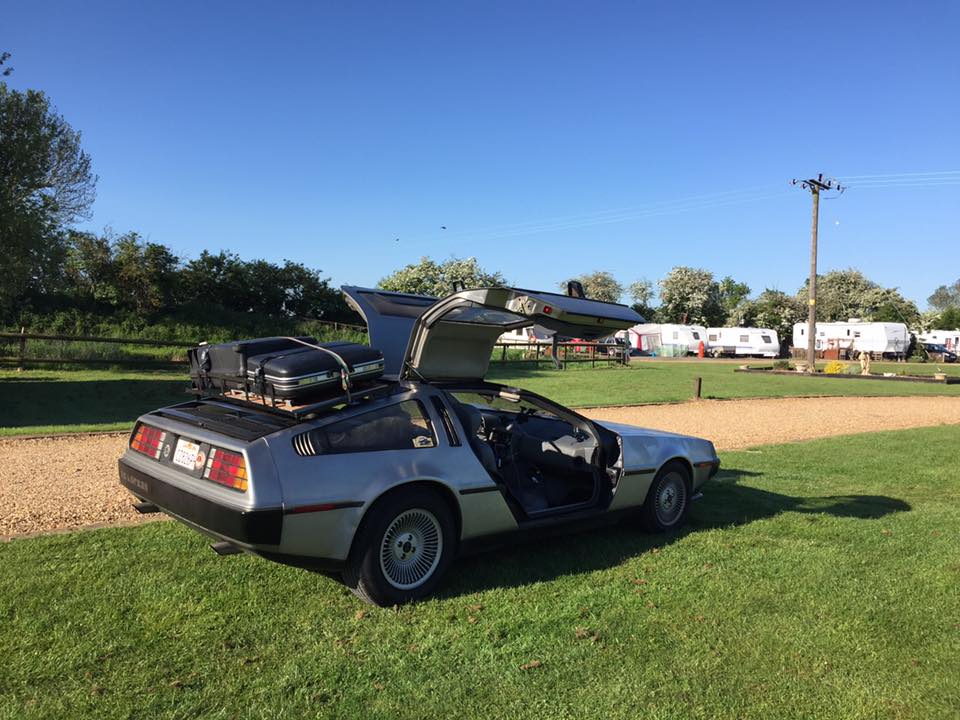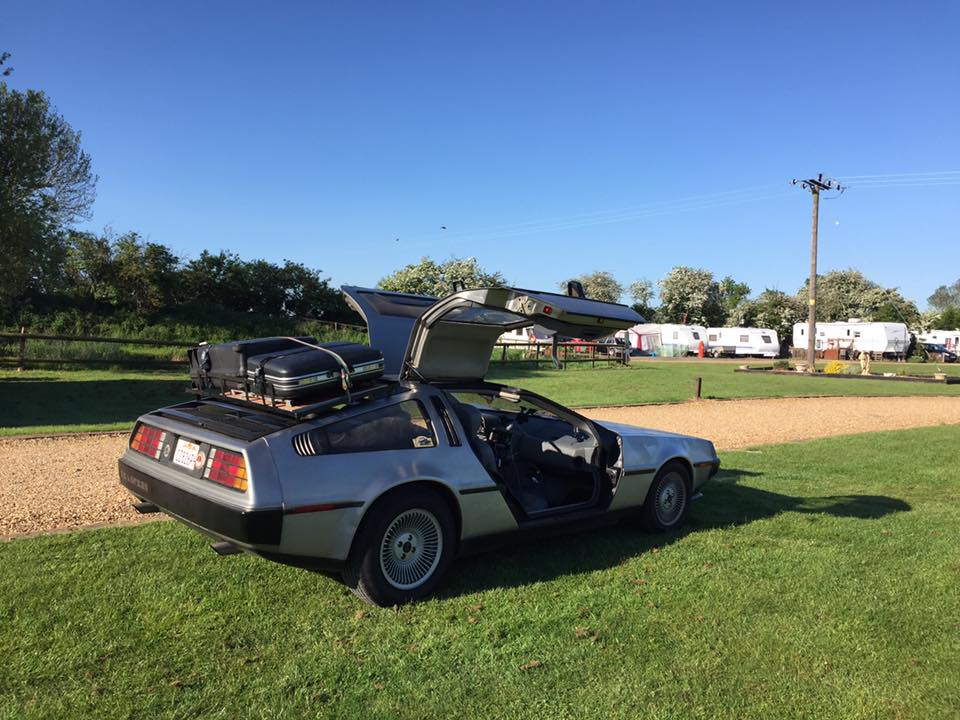 I thought a lot about it and measured each element would be in the car. For example, we did not buy the same folding chairs. I bought chairs without armrests while Cedric bought with armrests. Except for his trip to Ireland did not fit in the trunk in the front for too long 5cm. Same for cots for Ireland, I had to measure to make sure they held well forward.
Be clear and decide what we really need.
The day before we left, we assembled and disassembled the tents, otherwise, we inaugurated the trip by sleeping first evening in Annecy 😉 Adventure!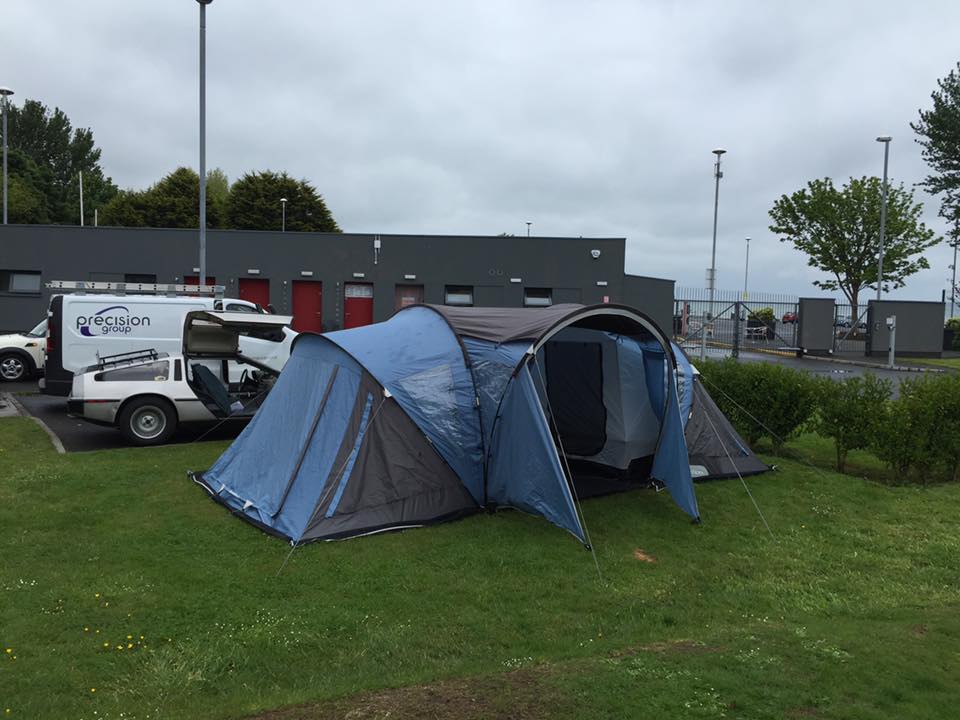 For the Italy trip in 2015, we did not do the same packing, as we had 3 small tents, while for this trip, we had one big tent.
I organized my car like this:
Safety first: I put all the tools and repair parts in the spare wheel location, in case I ever have a mechanical problem.
One large suitcase with food.
One small suitcase with different liquids for the car (cleaning, engine oil, gearbox oil, coolant, transmission fluid)
Behind seats:
Two DMC travel bags
Two backpacks
One 12V electric cooler
Luggage rack:
One large waterproof bag, with the air mattress pump, two pillows, two sleeping bags
Two folding chairs
One tent
That was the organization of two cars. Since we ended up having three DeLoreans, we could travel with our things equally distributed. (Gas stove, extension cords, tarps, Italian coffee maker, etc.)
Q: Do you see many DeLoreans near you in France?
We did not see other DeLoreans on the trip, but we met an Italian at Lake Garda who had a workshop.
Q: Did you have any maintenance problems on the road? How did you fix them?
The only car that had a mechanical problem was Cedric's. At Lake Bolsena, the car was not shifting. I looked at the transmission fluid level and saw that the reservoir was empty. I had brought a bleed kit which we used to purge and fill the reservoir. We found a garage that had Renault parts, but they couldn't get them for two days. So, we decided to continue on and just monitor the fluid level. We refilled the fluid every day so that there would not be any more worries.
Q: Are you a mechanic?

None of us are mechanics, and I knew nothing about cars before I bought my DeLorean, but I've learned a lot since, and now I help many people in France.
---
French
J'ai proposé en décembre 2014 de partir faire le tour de l'Italie en Aout 2015 au club Delorean français qui s'appelle "Stainless Wings" ( je suis actuellement le vice président ).
J'ai posté un message dans notre rubrique "sorties" et j'en ai parlé à mes amis qui sont autour de paris. 2 ont eu le courage de faire partie de l'aventure : Cédric et son frère dans une Delorean, Cyril avec sa voiture, et moi avec ma copine. Nous avons donc été 3 Delorean à partir.
J'ai ensuite réfléchi au road trip, j'ai établi un roadbook avec les itinéraires, le nombre de kilomètres journalier, les camping ( j'en ai sélectionné 3 ou 4 par villes ) j'ai calculé ensuite le budget total ( alimentation, camping, essence , péage ) en privilégiant des routes sans péages.
Le budget et l'itinéraire une fois estimés, nous avons ensuite réfléchi à l'organisation matérielle ( pièces automobile, outils mécaniques à prendre, le matériel de camping etc…)
Nous avons décider de faire faire des portes bagages sur mesure car ceux d'origine sont trop petits et pas solides. On voulait les faire fabriquer en inox mais le temps a passé et nous n'avons jamais eu de réponses ou de devis et  un midi, un  mois avant de partir, j'en parle au père de mon ami Cédric qui me demande ce que j'aimerais faire comme porte bagage. Je lui montre quelques photos de celui d'origine en lui expliquant que nous n'avons pas besoin de système d'attaches avec charnières juste un système fixe démontable une fois le voyage terminé mais qui peut quand même permettre de détacher le porte bagage pendant le voyage afin de pouvoir refaire les niveaux d'eau, d'huile et de pouvoir le démonter rapidement si jamais il y a un problème.
Je lui ai expliqué que le porte bagage d'origine est trop petit qu'il nous faut une plus grosse. Il fallait faire attention à ne pas diminuer la visibilité intérieur, et que l'antenne de la radio puisse sortir. Il fallait aussi que le moteur de refroidisse.
On a commencé à tracer et prendre les mesures sur la voiture le jour même et deux jours plus tard le cadre était déjà fait en double pour les 2 voitures ( la 3ème était équipée déjà d'un porte bagage d'origine ).
15 jours plus tard les 2 portes bagages étaient fabriqués et une semaine avant de partir, on les a installé sur les 2 voitures.
On a ensuite préparé les voitures. On a pas modifié les voitures comme nos amis allemands, j'ai souhaité expliquer et montrer qu'une Delorean est une bonne voiture une fois fiabilisée et qu'il n'est pas nécessaire de modifier complètement la voiture pour rouler avec.
Nous avons fait les vidanges d'huile, de liquide de refroidissement et de frein le 8 Aout ( nous sommes parti le 10 Aout) et nous avons changé les vieux amortisseurs et suspensions avant et arrières sur celle de mon ami Cedric le 4 Aout.
J'ai acheté ma voiture en Aout 2013. Je l'ai importée de Californie. J'ai fiabilisé ma voiture pendant ces 2 années en changeant tout le système carburant ( pompe, filtre et durites avia) tout le système de refroidissement ( radiateur, ventilateur, tuyaux aluminium, pompe à eau, durites silicone…) j'ai refait tout le système de freinage, j'ai amélioré l'électrique ( alternateur, ampoules LED partout, pile optima red, …).
Un seul propriétaire avant moi pendant 32 ans et il a roulé souvent avec en l'entretenant elle était en super état quand je l'ai acheté et elle était roulante, mais au bout de toutes ces années il était logique pour moi d'améliorer et de changer ce qui s'abîme avec le temps. Voilà les seules améliorations que j'ai apporté à ma voiture.
Pour le voyage italien, nous sommes donc parti le 10 Aout 2015 tôt le matin, et nous avons parcouru 5000 km en 14 jours.
Nous avons visité : Annecy – pise – Florence – sienne – pienza – lac de Bolsena – Montepulciano  – Cassino – Rome – Naples – Pompéi – metaponto – matera – Rocca priora – San marino – sant'agata bolognese ( Lamborghini museum) – Venise – lac de gardia – lac de como – Suisse – paris
13 nuits au total dans des camping. Juste une seule nuit où nous n'avons pas trouvé de place et nous avons dormi dans les voitures à l'autodrome "Enzo et dino Ferrari" comme vous pouvez le voir sur les photos.
Nous avons testé la veille du départ le montage et démontage des tentes sinon nous avons inauguré le premier soir à Annecy 😉 l'aventure !
Par contre j'ai beaucoup réfléchit, mesuré, pour être certain que chaque élément apporté rentre dans la voiture. Par exemple, nous n'avons pas acheté les mêmes chaises pliantes. J'avais acheté des chaises sans accoudoirs alors que Cedric a acheté avec accoudoirs. Sauf que pour le voyage en Irlande les siens ne rentraient pas dans le coffre à l'avant car trop long de 5cm. Même chose pour les lits de camp pour l'Irlande, j'ai dû mesurer pour être certains qu'ils tenaient bien à l'avant.
Il faut être précis et décider de ce dont nous avons réellement besoin.
Pour l'Italie, nous n'avons pas procédé au même rangement car nous avions 3 petites tentes alors que pour l'Irlande nous avions une grosse tente.
Pour l'Italie j'avais organisé ma voiture comme ceci :
-Coffre avant :
• j'ai mis à l'emplacement de la roue de secours tout les outils et pièces pour réparer si jamais j'ai un problème mécanique.
•une grosse valise avec la nourriture.
•une petite valise avec les différents liquides ( nettoyage, huile moteur, huile boîte, DOT4 liquide de refroidissement )
-derrière les sièges :
• 2 sacs de voyage DMC
•2 sacs à dos
•1 glacière électrique 12V
– porte bagage :
• 1 grosse valise étanche avec dedans le matelas gonflable , la pompe pour gonfler le matelas, 2 oreillers , 2 sacs de couchage.
• 2 chaises pliantes
• 1 tente 2 places
Voilà l'organisation pour les voitures. Comme nous étions 3 Delorean, nous avons pu nous repartir les choses également. ( réchaud à gaz, rallonges électriques, bâches de protection, cafetière italienne …).
Nous n'avons pas vu d'autres Delorean sur la route. Nous avons rencontré un italien au lac de gardia qui a un atelier.
La seule voiture qui a eu un problème mécanique est Cedric : son récepteur slave cylinder fuyait. Le matin au lac de Bolsena, impossible de passer une vitesse. J'ai regardé le niveau de DOT4 et j'ai vu le vase vide. J'avais emporté un "eezibleed GUNSON" ce qui a permis de purger et de remplir le vase.
Nous avons cherché un garage qui pouvait avoir des pièces Renault et il fallait attendre 2 jours. Nous avons donc décidé de continuer et de surveiller le niveau. On remettait du liquide chaque jour afin de ne pas avoir d'autres soucis. On a donc fini tout le road trip sans d'autres soucis.
Personne n'est mécanicien, je ne connaissait rien à la mécanique avant d'acheter une Delorean mais j'ai beaucoup appris et maintenant je dépanne beaucoup de gens en france.

C'était la première fois que nous partions faire du camping en voiture et en Delorean.
Nous n'avions pas établi le voyage en fonction des mécaniciens ou garages sur la route nous n'y avons même pas pensé d'ailleurs 😉
---
2016 Eurofest Trip photos
[telaalbums album="Joffrey Dragotta's 2016 Eurofest Trip"]
2015 Italy Trip photos
[telaalbums album="Joffrey Dragotta's 2015 Italy Trip"]
Thanks to Barbara Brock for some help with the French translation.