by Gordon Carpenter (DMC #10987) & Dara Solo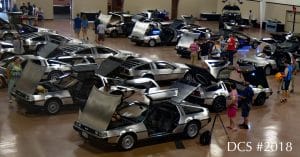 More than 50 DeLoreans attended the 2018 DeLorean Convention and Show at Pheasant Run Resort in St. Charles Illinois. While glancing at all of these gleaming beauties, one might say 'They All Look The Same'… But they Aren't! I took it upon myself to find and photograph the 'Custom' of every DeLorean at the show, and ended up taking over 300 photos! Personalizing your DeLorean while maintaining the key design elements has always been my passion. I was happy to discover that many of the participants at the 2018 DCS have been very creative in adding their own unique touches. Here are a few that caught my attention…
---
Owner Unknown (can anyone help here?), gave 01115 an interior makeover that grabs your attention like no other. The seats have been recovered with a soft, velvety, textured material. The Binnacle, dash center console, and shift boot have all been recovered in a red vinyl. The center console instrumentation has been redesigned to include a Double DIN stereo head unit, bright stainless steel knobs to control the AC, the stock manual shift ball has been replaced with a stainless steel knob, and the ashtray has been transformed to a cup holder. Last but not least, the steering wheel and turn indicator housing were painted red to match. From any angle, this interior is beautiful!
---
Owner: Dennis Schlieckau outfitted 05180 with custom luggage from www.HillsAliveLuggage.co.uk that goes perfectly with the DeLorean styling. Dennis elected to remove the spare tire and position the first piece in the now-empty well. Then two identical primary luggage pieces, beautifully tapered to fit our unique trunk, are positioned above the circular luggage piece. Hills Alive added a snap-on bag to utilize the space opposite the gas fill protrusion. All four pieces fit perfectly in the trunk space! And there is more… Behind the two passenger seats, two more suitcases expertly fit on the parcel shelf! I estimate that Dennis and his wife could easily take a 3-week vacation and never have to visit a laundromat on their travels!
---
Owner: Matt Slaw has a great example of a fully painted DeLorean. I love painted DeLoreans as much as I love the Stainless body. In every case I have observed, the front and rear fascias blend better with the body panels on painted cars, creating the illusion of a wider stance. While listening to a recording of a John DeLorean interview, presented by John Lamm at the 2018 DCS Tech Talks, we learned that painted DeLoreans were definitely on the horizon, maybe as early as the 1984-85 production run. This fire engine red paint job is amazing from any angle, and I am sure that it would have received two thumbs up from John DeLorean!
---
Owner: Kolin Brown has decorated his car with cool vinyl graphics from a collection of automotive sponsors, giving the car a NASCAR vibe. Additionally, this DMC-12 sports a 'ground effects' kit that completes the race car package.
---
Owner: Luke Sandel drives 10270 on RAYS Volk TE37 wheels that are very popular with performance enthusiasts. Custom wheels for a DeLorean are not a simple task considering how unique the dimensions of stock DeLorean wheels are! I know, as I have been searching for my 'holy wheels' for a decade or more! The wheels chosen by Luke are especially interesting because of the contrasting style and color. Even with 10mm wider tires (205 and 245), approximately 4 lbs. per wheel of weight savings is realized.
Luke has upgraded 10270 with a single water-cooled Garrett T3 'Mr. Turbo' feeding the stock Delorean engine. At 6 pounds of intercooled boost, Luke is experiencing approximately 170 HP at the wheels. At the heart is a Megasquirt 3 sequential EFI system, providing boost control and safety monitoring of air/fuel ratio, boost level, and engine knock. Boost begins at 1800 RPM providing seamless power during any driving condition. For long range trips, 30+ MPG is obtainable at 70MPH.
---
Owner: Diane Bailey's 6138 has a trunk that is worth seeing! The carpet has been replaced with a well-fitted piece of plywood sporting a large DMC logo. Then you will notice that the whole trunk has been coated with a 'LineX – Rhino Lining' style coating. What a beautiful surprise for a part of the DeLorean that is usually overlooked.
---
Owner: Nathan Schmucker rolls 10410 on four custom wheels that we may be seeing a lot more of. These wheels are just like the stock 14"/15" front/rear DeLorean wheels, except that they are 17"/18" in diameter. DMC Houston currently offers these 'Billet' wheels on a 'custom-made and non-cancellable order' basis.
Nathan has swapped the stock DeLorean engine for a Toyota 2JZ Supra engine, a 3.0 liter turbocharged inline 6 cylinder that delivers an amazing 400hp at the wheels! Affectionately known as "2JZD", it was owned by Nathan's father, the late Cliff Schmucker. Cliff made many upgrades including a computerized engine management system, a digital RPM relay, 11" vented and slotted brake rotors, upgraded gas shocks and adjustable rear lower control arms. Even in a room full of DeLoreans, this car is an attention-getter!
---
Owner: Dennis Adams' 10574 rides on four customized DeLorean wheels. Dennis shared that he first stripped the wheels of all paint, then powder coated each entire wheel. Later he had each wheel machined to expose the bright metal shown in the photo and finish each wheel up with a thin clear coat. The black paint of the DeLorean body and the wheels are stunning together.
---
Owner: Eric Weber has an amazing stereo/audio system installed in 7104. The amplifier is the largest I have ever seen and occupies a good portion of the trunk. Behind the seats and beautifully installed in a sculpted cabinet, are two speakers obviously capable of handling the output of the amplifier in the trunk. I can only imagine the abilities of this system! Unfortunately, Eric Weber was elsewhere when I discovered his DeLorean.
---
Owner: Kevin Krinn has been upgrading 00909 with a modern-day electronic display in place of the stock analog engine gauges since about 2016. This is the most amazing customization of a DeLorean ever! Kevin is a self-taught software developer and car customizer, who has brought together all the components necessary to accurately replicate the stock Delorean instruments. Additionally, he has replaced the center console with a touch screen display monitor that allows the driver or passenger to control all of the original controls as well as many new features. To the delight and surprise of many show participants, Kevin linked the electronics of his DeLorean to the classic arcade driving game "Outrun" by Sega temporarily putting a projector between the raised doors and hanging a reflective screen on the inside of the open trunk lid – then resting the front tires on lazy-Susan turntables which allow the steering wheel to easily turn the wheels. Furthermore, he electronically connected the steering wheel, gas, and brake pedals to the computer that operated the video game. Many show participants enjoyed playing the game while seated in a real DeLorean. Visit Daniel Keith Miller's Facebook timeline, August 18th, 2018 for a video of Bob Gale playing the game. Not at all surprising, Kevin's car won "Best Full Custom" at the 2018 DCS!
---
All Photos