by Gordon Carpenter – DMC #10987
I'm always motivated to improve the state of my DeLorean when my wife makes comments. After 15+ years of service, the floor mat on her side was not holding its shape, so I decided to replace the set. The grey carpet with the DMC logo stitched in black thread has always been my favorite, but to my surprise it is no longer available. Currently, the DMC logo may only appear on products sanctioned by DMC-Texas. After all of my research, I elected to customize my new floor mats from Lloyds with the letters of my personalized California license plate 'SEXY 2-DR' (Sexy 2-door).
Here is what I found…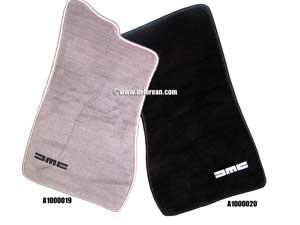 Let's start with the DMC-Texas option… DMC offers very nice floor mats in either grey or black carpet, with a DMC logo. The mats are precision cut to fit the footwells, and come with a 'nubbed' backing to ensure they don't slip around. The DMC logos are NOT embroidered, but rather die cut carpet of contrasting color that has been welded in. The DMC logo is black for the grey mats and white for the black mats.
DeLorean Europe is now selling a slightly different version of the DMC logo floor mats. Online, DeLorean Europe still show mats that look like the DMC-Texas mats, however, when I inquired, I was sent a photograph showing a new design floor mat. These new mats differ in the following ways: 1) The DMC logo appears to be a logo patch that has been stitched in place. 2) The mats have a rubberized area, positioned below the driver foot pedals, to minimize the wear from your shoes. 3) the mats have vinyl seam binding stitched all around to finish the mat edge. They appear to be very durable.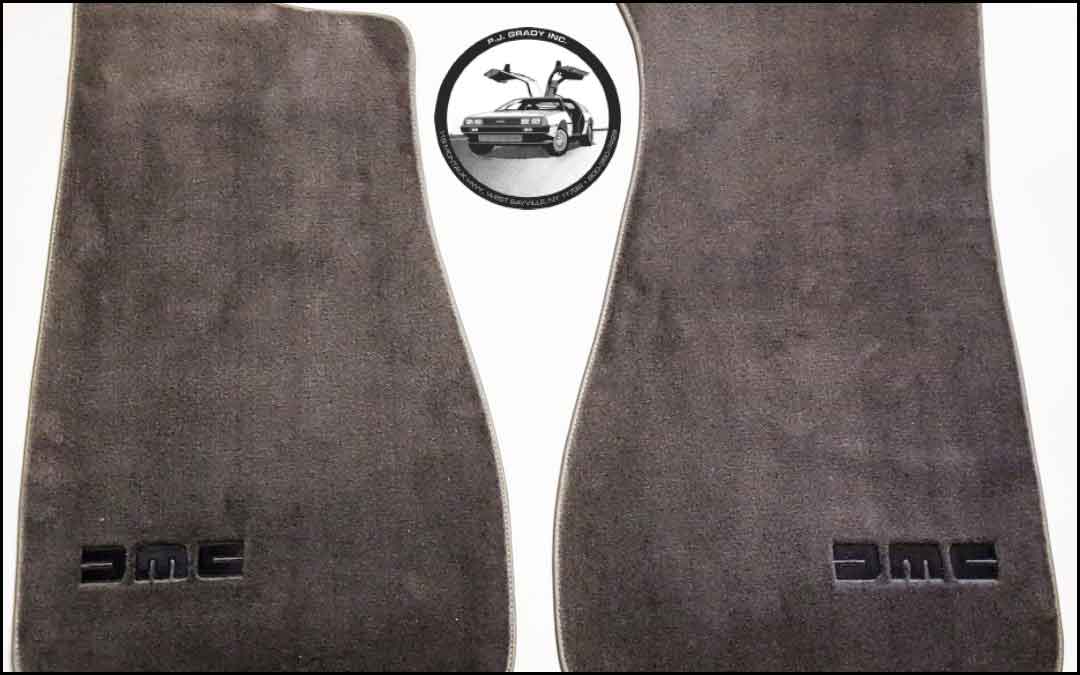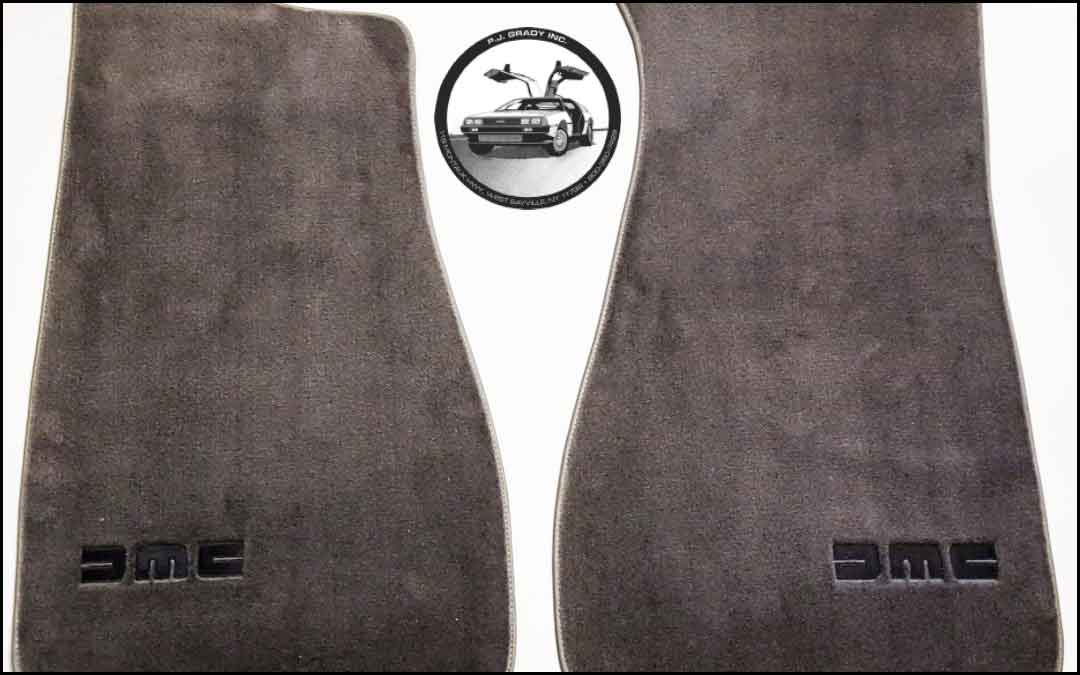 Custom floor mats with the DMC logo also appear on the PJ Grady website. I was very interested in these, as they appear to be identical to my old mats. Unfortunately, they are out of stock, there is no price shown and new stock has not been scheduled.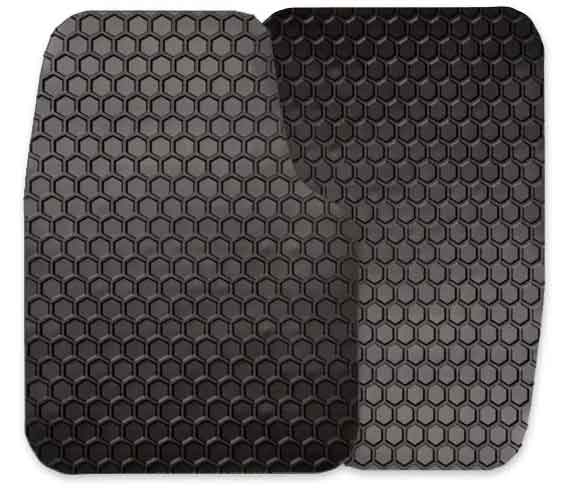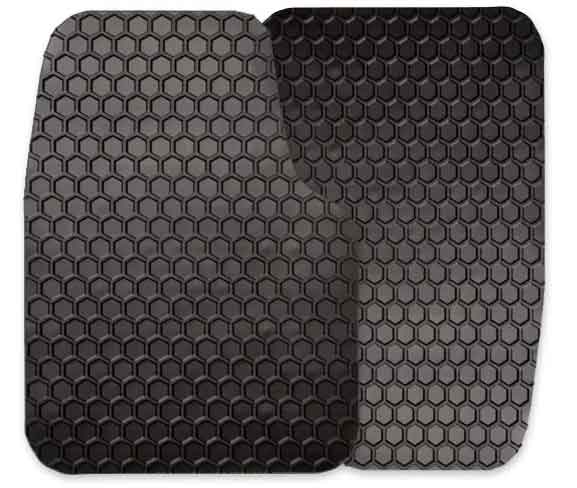 Of course, there are other sources for DeLorean floor mats without the DMC logo. These sources have a proprietary mat material and already know the shape needed to fit the DeLorean foot well correctly. An example of these floor mat sources are: Lloyds Mats or Auto Accessories Garage. Lloyds will only embroider custom logos if they have copyright permission. Many years ago, the DeLorean Owners Association had permission to use the DMC logo and sold floor mats by Lloyds that looked very similar to those shown on the PJGrady website.
To summarize, I prefer floor mats that have an embroidered logo. Embroidered logos remain sharp, they are durable, and embroidery thread colors are more fade resistant than the carpet. Additionally, seam binding around the edge, and anti-slip texture added to the back side of the mat are both very important finishes.
In the end, I decided to forgo the DMC logo and customize my new floor mats in a different way. Lloyds Mats embroidered the letters of my personalized license plate 'SEXY 2-DR', which expresses my admiration of the DeLorean doors. In case you are wondering, this personalized plate was issued in 1985 by the California DMV, long before life got so 'word sensitive' and 'politically correct'. With Lloyds, you have a choice of 4 different fonts and a wide range of colors for both the carpet and the embroidery thread. And so, for only $30 more on the floor mat order, my Lloyds floor mats are very personalized to VIN 10987. I'm very happy with my 'SEXY 2-DR' floor mats.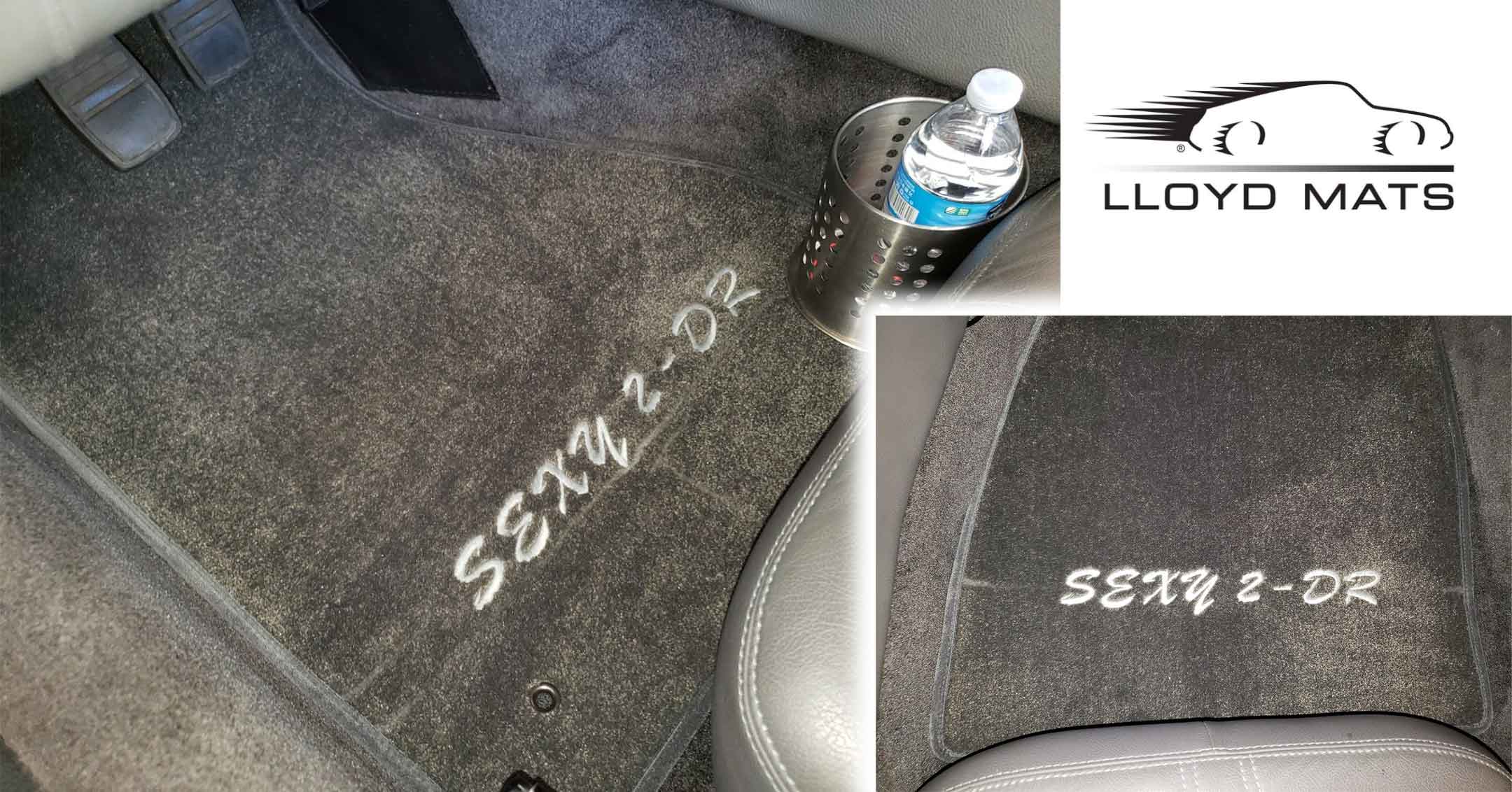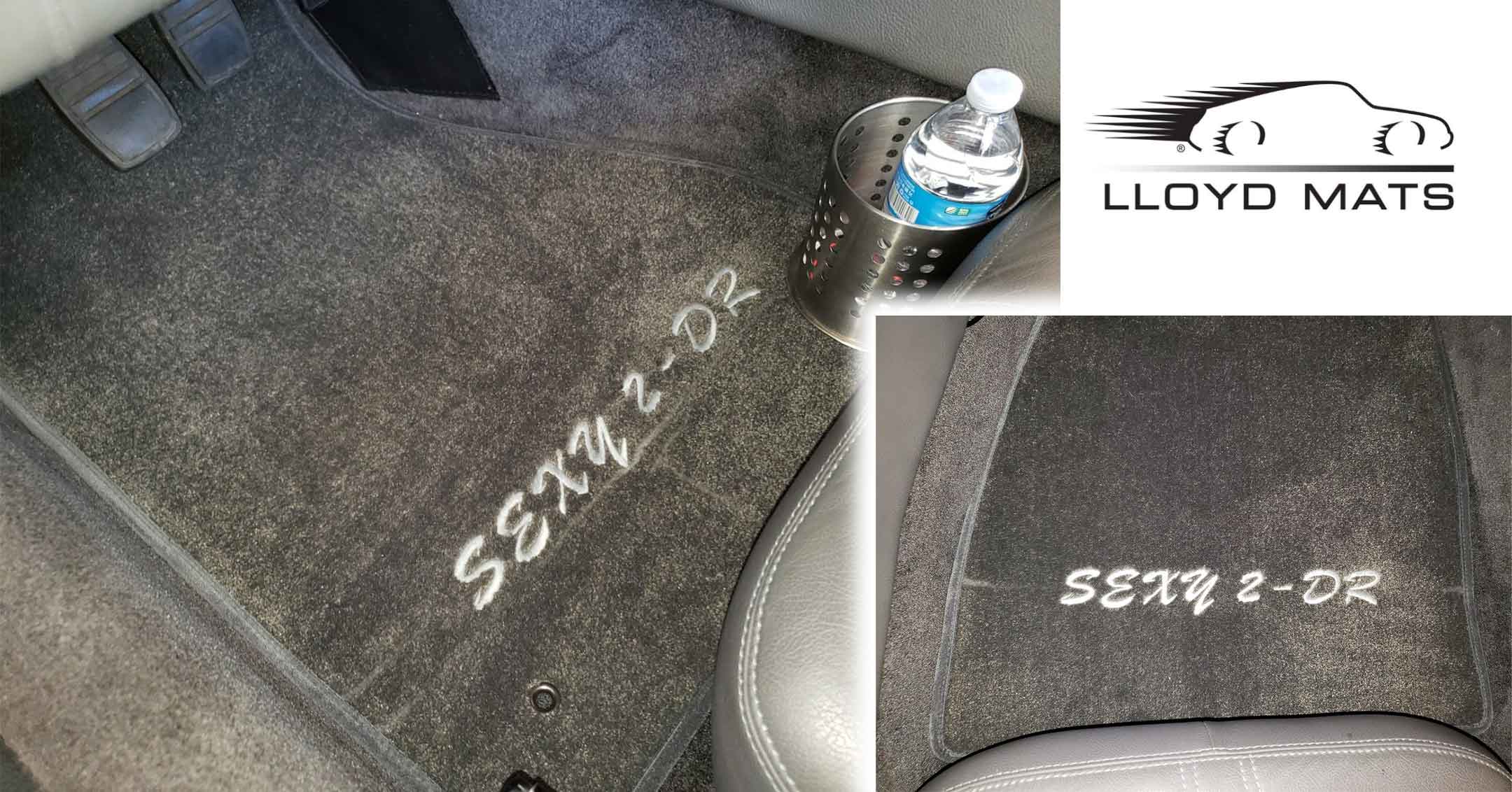 As of April 2019, here are the prices:
DMC Store – $149.50 US
PJGrady – $ Unknown
DeLorean.EU – $98.84 EUR
Lloyds Mats – $89.90, Plus $30 To embroider
Auto Accessories Garage Hexomats – $54.95
---
Discuss